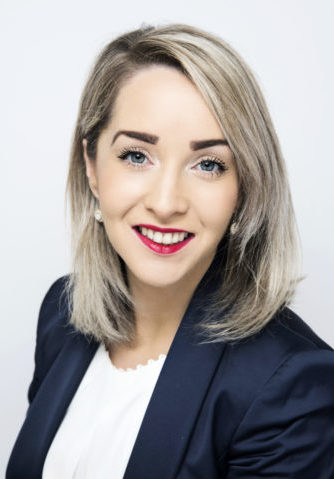 Aisling Prendergast,
MSc (UK) MBACP (reg.)
Psychologist
Lead Program Co-ordinator for Raymee Grief Center
"I consider the therapy space as a unique experience for everyone. I endeavor to support people through their difficulties with an accepting and compassionate stance whilst helping others to gain solution focused tools."
I am proud to lead the Raymee Grief Center and I feel passionate about providing a space for individuals and families to understand their journey with grief, loss and trauma. I have trained extensively to work with individuals and organizations who have experienced traumatic events that have severely impacted their lives and productivity. I am experienced in facilitating critical incident stress debriefings and provide a variety of trainings using evidence-based treatment modalities.
I have worked in both inpatient and outpatient mental health settings in the UK, having qualified from London South Bank University. I work with young people and adults from 13 years upwards. I primarily work with the individual; however, I am committed to working as part of a Multi-Disciplinary Team during the treatment plan with all clients, ensuring that the whole family system can feel supported throughout the treatment process.
I am passionate about working with individuals and families who are struggling with an Eating Disorder. I also have experience working with individuals who may struggle with traits or symptoms of Unstable Personality Disorder taking a Mentalisation and Dialectical Behavior Therapy stance. I have a particular interest in supporting individuals who are struggling to manage difficult or overwhelming emotions or events in their lives. My aim is to work towards improving their quality of life collaboratively and to develop a more compassionate relationship with themselves using solution focused strategies.
Expertise
Grief and loss
Attachment and relationship difficulties
Unstable Personality Disorder
Self-harming behavior
Suicidal thoughts
Eating Disorders
Addictive Behaviors
Body Image difficulties
Self-esteem and self-worth struggles
Trauma related difficulties
TOOLS
Person centered approach
Mentalisation Based Therapy
Dialectical Behavior Therapy
Mindfulness
Qualifications and memberships
BA (Hons) Applied Social Studies in Social Care
MSc Addiction Psychologcy and Counselling
Intensive Dialectical Behavior Therapy- Behavioral Tech
Mentalisation Based Therapy for Adolescents- Anna Freud
Mentalisation Based Therapy for Families- Anna Freud
Mentalisation Based Therapy, Basic Training- Anna Freud
Registered Member of the British Association of Counsellors and Psychotherapists
Member of the Middle East Eating Disorder Association
CDA Licensed